Erase Real Buildings With The ERO Concrete Recycling Robots
Posted: July 17, 2013
Filed under:
JustArch
Leave a comment
See on Scoop.it – JUST ARCHITECTURE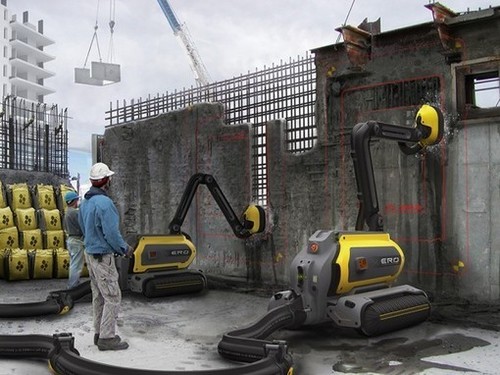 fc3arch's insight:
Even the noun itself—"build-ing"—implies an additive process, focusing on the creation and growth of a system. So it doesn't come as a surprise that the deconstruction process of a structure is often only dealt with as an afterthought, completely divorced from the original design team. Plus, perhaps architects' egos are healthy enough to assume that their work will never need to be torn down.
Therefore, demolition work typically includes many people and machines, with large energy expenditures on both ends. The process usually involves violent and dramatic episodes to break apart the buildings, accompanied by continuous showers from fire hoses to keep the dust at bay. The material from the process is then sent all the way out of the city to recycling stations where waste is sorted manually.
Too much drama. Instead, ERO doesn't need to have anything sent beyond the grounds of the demolition site and will actually produce more useful material than what it needs to run on. A typical procedure would begin with the robots coming into the site and autonomously scanning and evaluating the work. Using a system that utilizes high-pressure water (that is itself then reused), the building will be deconstructed and metal rebars will be cleaned and and reused on-site, while concrete will be sent to precast stations. Essentially, the ERO team will have the power to discretely erase whole buildings. … Now we just need to wait for this product to actually be realized.
See on www.architizer.com
---